Damilola Taylor Trust unhappy at Rickie Preddie jailing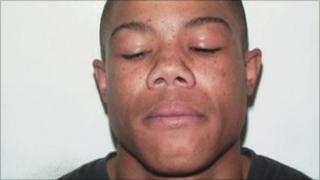 The return to prison of one of Damilola Taylor's killers may have been avoided if his probation was better handled, the Damilola charity trust has said.
Rickie Preddie, who was jailed in 2006 for the manslaughter of 10-year-old Damilola in south London, breached the conditions of his licence last week.
This was "very predictable" as his release was handled "appallingly", said chief executive Gary Trowsdale.
The London Probation Trust insisted "appropriate" actions were taken.
The Damilola Taylor Trust was set up to remember the schoolboy, who was attacked in Peckham in 2000, and to encourage young people to shun violence.
Preddie and his younger brother Danny were sentenced to eight years.
Preddie, who was released last September, had been "rehoused in a London area not that far from the area he grew up in, and he's been wandering back into that area, as we understand it", Mr Trowsdale said.
"This should have been handled so much better and we offered to help in that support process."
But the Probation Service "totally rebuffed us" and "didn't even bother responding to us", he told BBC Radio 5 live.
The London Probation Trust said it would be happy to speak to representatives of the charity and answer their questions.
It took its responsibilities "very seriously with regards to protecting the public, managing offenders and liaising with victims and their families", a spokesman said.
The Ministry of Justice added authorities were "strongly committed to addressing the needs of victims".
"Since 2001 the Probation Service has had in place a victim-contact scheme for those victims of offenders convicted of violent or sexual offences who are sentenced to imprisonment for over 12 months.
"This enables them to receive information at key stages of an offender's sentence, including when they are released from prison and if they are recalled to custody.
"The scheme also allows victims to make representations about which conditions are attached to the offender's release licence in order to reassure and protect them."