'Oliver Twist' Strand Union Workhouse gets listing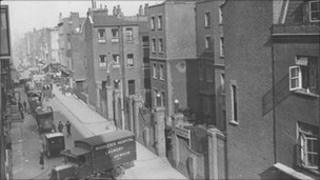 An 18th Century workhouse thought to have inspired Charles Dickens' Oliver Twist has been saved from demolition.
Camden Council had been considering a planning application to turn the site of former Strand Union Workhouse into a private residential development.
But the building, in Fitzrovia, has now been given a Grade II listing by the government's heritage minister.
The building's architectural and historic interest must now be considered in any development plans.
The Covent Garden Workhouse, as it was originally known, was built in 1778 and is thought to be the best preserved Georgian-era workhouse in London.
It became an infirmary in the late-19th Century and until recently housed the outpatients department of Middlesex Hospital.
Dickens is understood to have lived a few doors away from the building for nearly five years, in his formative years.
Historian Dr Paul Schlicke, editor of The Dickens Companion, said that the workhouse was used as the model for Dickens' famous novel Oliver Twist.
"It's inconceivable it wasn't that workhouse," he said.
"He lived so close to it. He would have been seeing it, hearing it. It will have been the one he knew best."
Heritage minister John Penrose said: "It is undoubtedly an important and interesting part of our history and heritage, and deserves the extra protection that listing provides."
English Heritage said: "We are delighted that the minister has agreed with our advice to list this important building."