Rare library book returned after 30 years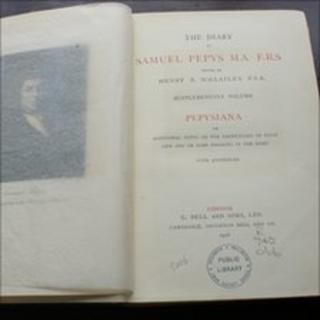 A rare library book has been returned to its south London home after more than 30 years of globe trotting with a former Australian naval commander.
Former Royal Australian Navy Lieutenant Commander Ron Robb borrowed the book from Wallington Library in Sutton in 1981.
The volume of Samuel Pepys' Diary then accompanied him to Hong Kong before ending up in Australia.
Sutton Libraries said it will not charge Mr Robb a late fee.
Mr Robb, who lived in Carshalton, Sutton, when he was posted to London in 1980, borrowed the volume to help his daughter with a project.
Mr Robb discovered the book while in the process of moving house in Toongabbie, New South Wales, and contacted Wallington Library manager Steve Winser to get it safely back to Sutton in south London.
'Quite valuable'
Speaking from his home in Australia Mr Robb said: "I happened to flick open the book's cover and noticed that it belonged to Wallington Library.
"I especially noted that it was part of a donated series and, being an honorary archivist for a college, I recognised that it might be quite valuable," he added.
Councillor Graham Tope, executive member for community safety, leisure and libraries at Sutton Council, said: "We've all had the odd overdue library book but 30 years must be a record.
"It's great that this valuable book has been returned to complete the set, particularly as they have been part of the library for so long."
Based on the current daily rate of 15 pence per day, the book would have run up a fine of more than £1,600.
Sutton Libraries stop fines at a limit of £5 and in this case waived the charge.
Before its lengthy absence, the 1928 volume, part of a set estimated to be worth about £200, had belonged to Wallington Library since it first opened in 1936.
It was donated by Sir William Mallinson, who was one of the original benefactors to the library.
The book is now back with the other volumes of the edition in the library's Mallinson Room.