London 2012 Olympics: Call for VIP tickets register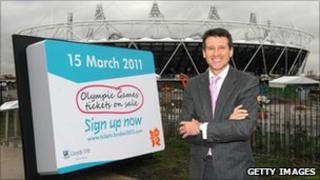 There have been calls for a record of all tickets reserved for officials, politicians and VIPs at the London 2012 Olympics to be published.
The move would uphold public confidence that the allocation of tickets was fair, a London Assembly report said.
London 2012 and the mayor were urged to lead the way by releasing details to justify their allocations.
On Tuesday 6.6 million tickets, out of a total 8.8 million, go on sale to the public.
About 14,000 tickets have been reserved for various government bodies and the London mayor is entitled to 2,000 tickets, the economic development, sport and tourism (EDCST) committee report stated.
Tickets will also go to sponsors and athletes, through VIP packages and through foreign Olympic associations.
'Open and transparent'
The EDCST committee deputy chairman Dee Doocey said while good decisions had been made, the government's ticket allocation seemed excessive.
She said: "Every seat taken up by a government official or politician is one less seat for the public so it's vital that government bodies are completely open and transparent about who gets them, why and who ultimately foots the bill."
The report urged London 2012 to outline by May what final bids for tickets it received from sponsors, central government, the mayor and local authorities and how many it provided to each.
A spokesman for the Department of Culture, Media and Sport said: "The government has bid for 9,000 tickets for the Games at a range of prices and for a range of sports" which represented less than 0.1% of the tickets available.
He said the Games was a fantastic opportunity to showcase and promote the UK and the tickets would be used to the benefit of the country.
The committee also called on the mayor to publish a register that accounts for any tickets he receives.
The report said: "It should state to whom each ticket was allocated and the reason for the allocation. Where the cost of the ticket is not to be met by the individual attending the event, the case for meeting the cost from public funds should be made."
A statment from the mayor said: "We welcome the assembly's report which recognises LOCOG's excellent work and reflects our own aims to see transparency and fairness in the allocation of 2012 tickets."