Turbulence led to spinal injury for plane stewardess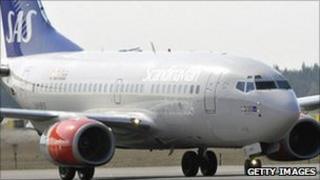 An air stewardess suffered spinal injuries when her plane hit turbulence and she was thrown into the air.
The Boeing 737 SAS Scandinavian Airlines flight was approaching Heathrow Airport in August last year when the incident happened.
The Air Accidents Investigation Branch (AAIB) report said the stewardess had been in a crew seat, unrestrained, and was making a passenger announcement.
The airline had since made safety recommendations, the AAIB added.
After being thrown into the air, the woman landed back on the seat and badly injured her back.
The stewardess was in considerable pain and had to remain on the galley floor as the flight came in to land, the AAIB report said.
'Unaware of announcement'
Another cabin crew member had managed to sit in an empty seat but was not able to fasten the seatbelt before she was thrown into the air. She hit the cabin roof but was unhurt.
The injured stewardess had to stay in hospital for 10 days following the incident on the afternoon of 23 August.
The AAIB report said the seatbelt sign was on at the time but the cabin crew were unrestrained and were securing the cabin for landing.
Three out of four of the cabin crew had not been aware of a public address announcement warning of possible turbulence, the report found.
The AAIB said the airline's procedures called for cabin crew to be seated with seatbelts fastened when the seatbelt signs were on.
SAS carried out an investigation which highlighted three similar occasions of cabin crew suffering injuries due to turbulence.
In one case, two crew in the forward galley suffered fractures.