London Underground: 'Millions not claiming Tube refund'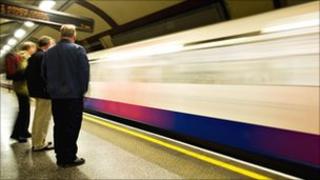 Just 330,000 of a potential 11 million Tube passengers claimed compensation for delays in 2010, Transport for London (TfL) has said.
The company said it was responsible for more than 1,800 delays of 15 minutes or more on London Underground.
The Liberal Democrats, which requested the figures from TfL, said the number of claimants showed a lack of awareness of the refund scheme.
TfL said the delays accounted for 1.3% of 1.1 billion journeys taken in 2010.
A total of 14 million passengers were affected by delays but three million were disrupted by incidents which were beyond TfL's control.
'Excessive delays'
Caroline Pidgeon, Lib Dem leader on the London Assembly, said: "No-one should have to wait 15 minutes for a Tube train, yet incredibly 14 million people had to last year.
"It must be the mayor's top priority to tackle these excessive delays.
"It is also vital that every Londoner is aware that they are entitled to compensation when such delays take place."
A TfL spokesman said: "Despite the vital work to upgrade the Tube network, just 1.3% of the Tube's 1.1 billion journeys last year were affected by significant delays."
Since last year there have been numerous disruptions on Tube lines owing to faulty trains, track and signal faults, upgrade work and people jumping on the line.
A two-hour closure on Jubilee Line during the morning rush hour due to a faulty train last month prompted Mayor Boris Johnson to ask London's transport commissioner Peter Hendy for a report.