John Sweeney 'canal victim predicted her own death'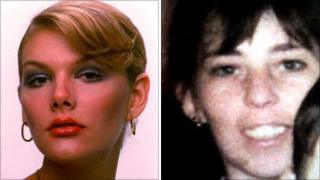 The sister of a woman whose mutilated body was found in a Dutch canal has told the Old Bailey that she had predicted her own death.
Chance O'Hara, 63, said US former model Melissa Halstead had been beaten by her boyfriend, John Sweeney.
Mr Sweeney, 54, of no fixed address, denies murdering Ms Halstead, 33, whose torso was fished out of a canal in Rotterdam, Holland, in 1990.
He also denies a second murder count and perverting the course of justice.
The dismembered and headless body of Paula Fields, 31, was found in body bags in London's Regent's Canal in 2001. The cases were linked in February 2010.
Hammer attack
When asked about her sister, Miss O'Hara said on a videolink from California: "She told me if she ever went missing, that John Sweeney would have killed her."
Miss O'Hara said former model Ms Halstead had been beaten by Mr Sweeney.
"He had threatened that he would kill her and he would make sure no one would ever find her body.
"He was extremely possessive and demeaning. He felt he owned her," she added.
Miss O'Hara said she last saw her sister in London in 1987 when she was working as a photographer and make-up artist.
She noticed bruising on her sister, who said Mr Sweeney had done it.
"When he came back to the apartment, he told her that she was supposed to do what he said and that he had control in the relationship," she said.
"He said that when I left she would not have anybody and she would only have him."
'Stalking her'
Miss O'Hara said Ms Halstead rang her from Europe in 1990 to say Mr Sweeney had "tracked her down and was stalking her".
She said he had attacked her with a claw hammer but she was going to bail him out of jail.
"I could not understand why she would release someone from prison who had already beaten her with a hammer.
"She said John had cried and begged her. He had no one else. He was sorry and he would leave her alone if she would get him out."
But after Ms Halstead did not contact their mother on her birthday on 2 November 1990, her family became alarmed.
Her head and hands have never been found and the body was not identified until 18 years later when her DNA was matched to her family.
Cross examined
Mr Sweeney had lived in Camden and Hackney in London.
Cross examining her for the defence, Michael Wood QC, asked her why it had taken so long for her to mention her sister's "prophecy".
He said she had never mentioned her sister's words about John Sweeney killing her until 2008, 21 years after her death.
Mr Wood said: "Were you not concerned enough about your sister so that you would mention this conversation to someone?"
"I may have mentioned this conversation to my mother and to other relatives. I don't remember," she said.
Mr Wood said: "The reason I suggest you didn't mention it is because it never happened."
"Well then I would have to call you a liar. I was physically there and I saw him strike and beat Melissa," she snapped.
The case continues.