Night Stalker trial: attacker 'shook victim's hand'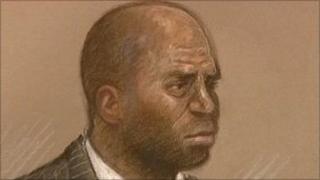 A man accused of the "Night Stalker" sex attacks on elderly people in south London shook his victim's hand after assaulting her, a court has heard.
Delroy Grant, 53, of Honor Oak, denies 29 charges, including rapes and sex assaults between 1992 and 2009.
The jury heard he drank a can of beer, shook the 82-year-old's hand and left by the front door after assaulting her.
The woman, of Croydon, thanked him fearing the attack could have been worse, Woolwich Crown Court heard.
She has since died.
The balaclava-clad attacker, who has been dubbed "Night Stalker", was well-spoken and "almost respectful", the jury heard.
The victim phoned a neighbour for help when she discovered the attacker had removed fuses, saying she was "annoyed" because she wanted a cup of tea.
'Shocking and unpleasant'
The court has heard Mr Grant, who faces charges in relation to 18 victims, often tampered with phone lines and fuses to make good his escape.
Jonathan Laidlaw QC read a witness statement from the victim, known as Mrs F, saying she was attacked after going to sleep in July 1999.
It read: "The next thing I knew was a hand covering my mouth and nose.
"I felt quite a bit of pressure from his hand on my face. I thought I must be dreaming.
"I remember seeing this big black hooded masked face."
Mr Laidlaw continued reading from the statement: "I said something like, 'Thank you for not hurting me'.
"I felt that he could have been so horrible and nasty to me that, as shocking and unpleasant as it was, I was thankful that he did not hurt me.
"Somehow he shook my hand and pushed me back from the door."
Following the attack he looked around the house before taking out a can of beer from his pocket and drinking it in front of the pensioner, the court heard.
'Completely covered'
Another victim, 88, also from Croydon, and who has also died, was indecently assaulted in 1999.
She told police he stopped after she said: "It's a good job your mother can't see you now."
The victim added: "I wonder if that had made him stop."
However she later told police she was unsure if she had spoken those words.
The court heard a further victim, 88, from Orpington, Kent, was raped in her bungalow having been awoken by a creaking noise.
She said: "All of a sudden I saw this figure at the end of the bed.
"He was completely covered head to foot in an all in one type cat suit."
The victim added: "He was really brutal. I was in such awful pain."
The case continues.