Pizza takeaway shooting footage shown to jury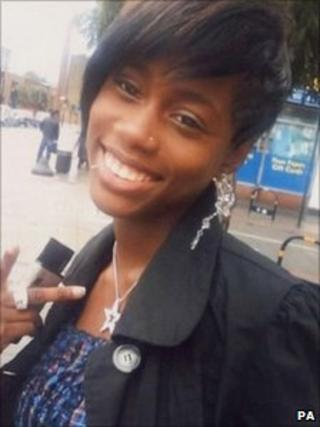 An Old Bailey jury has been shown "shocking" footage of the moment a 16-year-old schoolgirl was fatally shot in a pizza shop.
Agnes Sina-Inakoju died 36 hours after being shot as she waited for pizza in Hackney, east London, in April 2010.
The court was told the two gunmen were from a gang from nearby London Fields who were rivals of a Hoxton gang.
Leon Dunkley, 22, and Mohammed Smoured, 21, both from Hackney, deny murder and a firearms charge.
Mr Dunkley is accused of being the gunman while Mr Smoured is accused of acting as a lookout for him.
The defendants are in the dock alongside two youths aged 16 and 17, who both deny firearms charges.
'Hideously violent'
The "popular and successful" Miss Sina-Inakoju was shot through the window of Hoxton Chicken and Pizza, in Hoxton Street, by a "callous" bicycle-riding gunman, the court heard.
The jury watched CCTV footage taken from inside the shop.
Miss Sina-Inakoju could be seen playing with the hair of a friend, Ronan Casey, seconds before the attack.
Another friend ducked down when she spotted the gunmen outside but Miss Sina-Inakoju only had time to look up.
The film showed the bullet hitting her in the throat. She fell to the ground and then rolled over clutching her face.
Simon Denison QC, prosecuting, told the jury: "The footage is shocking. It's footage of a 16-year-old girl being shot and killed.
"It's graphic and it's hideously violent but we have to show it and we have to study it because it does give us a picture of what happened.
'Cold-blooded'
"The scene inside the shop was one of shock, horror and chaos."
Miss Sina-Inakoju became unwittingly caught up in a gang dispute when she was blasted in the neck with a sub-machine gun, the jury heard.
Mr Dunkley and Mr Smoured were both said to be members of the London Fields gang.
The court heard that the murder weapon was recovered by officers who chased a youth a week after the shooting.
Miss Sina-Inakoju's future "was taken away from her in an instant", said Mr Denison.
"She was standing inside the shop next to the window. Two young men on bicycles wearing hoodies with hoods up cycled up to the window," he added.
"One of them calmly took out a gun and pointed it towards the window where Agnes and her friends were and fired. It was very quick."
The gunman continued to cycle along the road, the court heard.
"The two young men cycled off as casually as they had arrived," said Mr Denison.
"It was as callous and cold-blooded as it could be, carried out in broad daylight in a busy street.
"Agnes appears to have been the innocent victim of an ongoing rivalry between gangs in that part of London."
The trial continues.