Charity landlord criticised for Hackney shop rent rise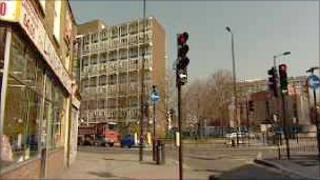 Shopkeepers in an east London market fear they may be forced out of business after a charity, which is their landlord, raised their rents.
About 25 shops in Well Street market in Hackney, where Tescos founder Jack Cohen began trading in 1919, said they faced rises of more than 100%.
St John Hackney Joint Estates Charity said it needed to bring the rents in line with current market rates.
Residents and Labour MP Meg Hillier have called for the market to be saved.
Shops 'struggling'
Hackney Labour councillor Ian Rathbone, who is secretary of Well Street Traders and Residents Association, said more than 5,000 people had backed a campaign to save the market.
He said: "It is quite a poor area and shopkeepers have been struggling for years to keep the market going.
"Its very hypocritical of this charity, which actually supposedly gives money to the poor of Hackney, to actually just take it from other poor people in Hackney."
Some shops in the market, which was established in the 1850s, were served with eviction notices while others are in the process of renewing their lease, he said.
Noorjehan Baiyat, 51, who owns a shoe shop, said her annual rent had gone up from £6,000 to £18,000.
She said: "There's no way we can afford that sort of rent because we are just surviving on what we are earning. As a charity they should be helping us, not kick us out of our shops."
'A business transaction'
Ms Hillier, Hackney South & Shoreditch MP, asked the charity to "consider phasing rent increases".
Geoff Taylor from St John Hackney Joint Estates Charity, said the rises were open to negotiations.
The charity helps fund school projects, parenting courses, clubs for the elderly and alms houses and its work was not to "subsidise" businesses, he said.
"Our purpose is to raise money for local charities, we can't raise money from empty shops, so its absolutely imperative that we have businesses in these shops," he said.
"It's a business transaction, these are businesses, we have to act in a commercial business-like way and it has to be done in a commercial way and we have to charge market rents."