Detective's tears over Night Stalker rape victim, 89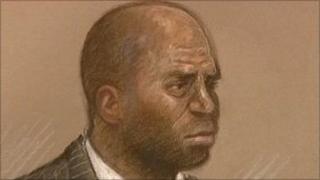 A detective was reduced to tears as the oldest victim of the so-called Night Stalker rapist told her she regretted reporting the attack, a court heard.
The victim, 89, told Det Con Yvette Daniel: "I wish I had not reported it now," Woolwich Crown Court heard.
Det Con Daniel said: "As she said that, I had tears in my eyes."
Delroy Grant, 53, of Honor Oak, south London, denies 29 charges including rapes and sexual assaults between 1992 and 2009.
The "proud and private" elderly woman, who has since died, was left crying and shaking as she was inspected by doctors after being raped twice in her home in Shirley, south London, in 1992, police said.
In the first witness statements read out in the trial, Det Con Yvette Daniel recalled the frail victim was clearly traumatised as doctors inspected her wounds.
The officer said she was personally "upset and concerned" as the old woman tightly held her hand after the horrific attack, the court heard.
The Night Stalker's first victim was left too scared to be left on her own at night, her family said.
Unscrewed light bulb
On the night of her rape, she got into bed to read but struggled to get to sleep after hearing a loud knocking sound.
The elderly woman made herself a cup of coffee and returned to bed for fifteen minutes before seeing a man appear in the doorway to her room.
"I said 'what are you doing here?' He rushed to me and forced his gloved hand on my mouth. He shouted at me to be quiet," she said in a statement.
"I said 'what do you want? Money?' He did not say anything."
She attempted to hide a key to her safe but handed over her money and purse before he attacked her.
The man unscrewed the light bulb in her bedroom and hall and cut the telephone line, the jury was told.
He left her home with several hundred pounds and jewellery.
The woman, who was not named to the jury, added in her statement: "I picked up the telephone to call my niece but the phone was dead."
Instead she was forced to walk to her niece's house in her bedclothes to alert police in the early hours.
After the attack, she moved into her niece's home.
"When it got dark she did not like us going out at all," the niece said.
'Absolutely ghastly'
Mr Grant is accused of preying on elderly women and men across south London during a 17-year reign of terror.
The suspect became known among officers as "Whispering Night Crawler", as police began to link a string of attacks, the court heard.
The court heard how a second victim, an acute arthritis sufferer from Warlingham, Surrey, who was 81 when she was attacked and has since died, said she believed her attacker was "going to finish me off".
The woman, who was attacked in September 1998, said she did not initially want to tell her son about the extent of the attack because he would have been "horrified", the jury heard.
Recalling the attack, she said: "It is a nasty feeling to know that a stranger has been through your home.
"The assault was absolutely ghastly."
The victims both described how a masked man appeared in their bedrooms, giving little away to reveal his identity.
The trial continues.