Dozens of homes in Edgware flooded by water main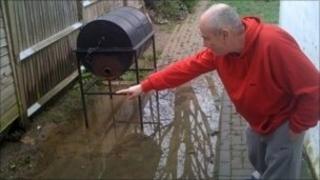 Dozens of homes in north-west London were left underwater after a large pipe burst.
The properties, in The Grove, Edgware, were hit after the 18in (46cm) water main ruptured in the early hours.
About 30 properties were affected, with residents baling water from gardens and appliances pumping it from ground-floor homes. The street has been left covered in sludge.
Veolia Water apologised for the disruption.
A spokeswoman said: "Our technicians are currently working on site to repair the burst and to ensure that water pressure is restored to affected customers as quickly as possible."
'Behold, a river'
Describing the moment the flood hit, a resident said: "We heard some noises at about 3.40am.
"My husband looked out of the window and, lo and behold, there's a river running towards our front door.
"I resorted to 999. They arrived as I was speaking to the operator."
Firefighters were concerned about an electrical substation at the end of the road which had water flowing towards it.
Martin Shaw is a resident of The Grove.
He said at the time: "It's chaotic. There is water torrenting right through our road.
"We've got cars flooded, houses completely flooded, we've had an old woman evacuated from her house."
Another resident said: "The whole of my garage is full of water. It's destroyed my computer equipment and pictures my mother gave me.
"The fire brigade were fantastic, knocking on our door and telling us to turn our equipment off."
A London Fire Brigade spokeswoman said: "A large water main burst, affecting an area of 400 sq m.
"Fifteen homes were flooded to a depth of 1m, 17 other homes were affected to varying depths."
At the height of the incident, four fire engines and 20 firefighters were at the scene.