Night Stalker sexual assault victim 'prayed for death'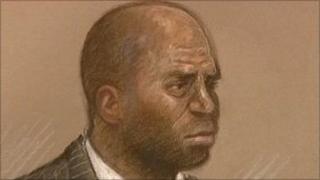 A victim of the so-called Night Stalker "prayed for a quick death" before being sexually assaulted, a court has heard.
Woolwich Crown Court also heard that after attacking his 88-year-old victim, Delroy Grant, aged 53, touched him on the shoulder and said: "We're still good friends."
Mr Grant, of Honor Oak, south London, faces of 29 charges, including rape and sexual assaults, between 1992 and 2009.
He denies the offences and attempted to blame his son, the court heard.
Despite the attack the pensioner, of Thornton Heath, south London, had the "presence of mind" to give Mr Grant the wrong Pin number for his bank card, prosecutor Jonathan Laidlaw QC said.
'Aware of forensics'
The alleged rapist made two failed attempts to withdraw money from cash machines shortly after the incident, the jury was told.
The court has heard how, over his 17-year crime spree, he became aware of advances in forensic technology, taking more care to avoid detection.
In March 2003, he burgled the home of a widow aged 78 in West Dulwich, south London, then wiped her hands with a cloth, the jury heard.
Mr Laidlaw said: "It is an example, the prosecution suggest, as the years passed, both of the defendant obviously having become conscious of the developments in forensic science but also of the care he was displaying as he committed these offences in order to avoid detection."
Police however, were still able to obtain a DNA sample, Mr Laidlaw said
The jury also heard Mr Grant made an apparent admission as he was registered at Lewisham Police Station following his arrest.
Mr Laidlaw said: "At the police station the defendant's fingerprints were taken.
"The officer told him, 'I am making sure I get ink all over your hands and get a good print from you'.
"To which the defendant replied, 'I don't know why you're bothering, I always wear gloves'."
Mr Laidlaw continued: "That indeed was the position. He was almost always wearing gloves and none of his fingerprints were recovered from any of the scenes of these burglaries."
The jury has heard the rapes stopped in the last 10 years of Mr Grant's campaign, possibly because he thought advances in forensic science and the use of DNA evidence could lead to his capture.
Abandoned break-in
Mr Grant was arrested on 15 November 2009 when a police surveillance team saw him running away from the home of a widow in Shirley, Croydon, the court heard.
The jury was told he had abandoned an attempt to break into the home of the 88-year-old for reasons unknown.
Police stopped his Vauxhall Zafira, finding a torch, crowbar, blue cagoule, fleece and woolly hat - items linked to crimes carried out by the Night Stalker, the court heard.
He was wearing two pairs of jeans, two pairs of boxer shorts, three T-shirts and shoes but no socks.
Mr Laidlaw said: "He plainly was wearing a number of garments that could be removed and replaced."
The trial was adjourned until Monday.