First London 2012 Olympic rings unveiled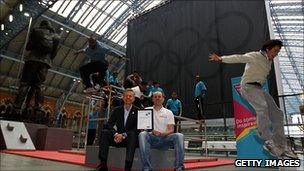 A giant set of Olympic rings has been revealed at St Pancras International station in central London.
The set of rings was unveiled by London Mayor Boris Johnson and London 2012 Chair Sebastian Coe.
The 20 metre-wide aluminium structure is suspended in the station's vast main space.
It is the first of several sets of rings which will appear on key landmarks around the city in the run up to next July's Games.
The rings, which were built in Hitchin, Hertfordshire, were secretly assembled and installed at St Pancras over seven nights.
The station, a Eurostar terminus since 2007, forms a key part of London 2012 transport plans for Games time as "Javelin" trains will take visitors to and from the Olympic Park.
Coloured blue, yellow, black, green and red, the rings represent the five continents and are linked to show unity between the world's athletes in the spirit of the Olympic movement.
It is traditional for Olympic rings to appear around the host city ahead of Games time.
In 2000, Sydney Harbour Bridge was adorned with a set, as was the Great Wall of China ahead of the Beijing Games in 2008.