West Ham approved as London 2012 Olympic Stadium tenant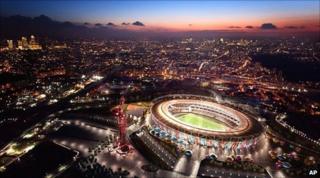 West Ham United's move to the Olympic Stadium after the 2012 Games has been approved.
The club was selected as the preferred tenant for the east London venue by the Olympic Park Legacy Company (OPLC) over a rival bid from Tottenham Hotspur.
That decision has been ratified by the government and the mayor of London.
Meanwhile Leyton Orient, the nearest club to the stadium, has threatened to take legal action as it claims the move would threaten its existence.
Orient chairman Barry Hearn said last month he had written to Prime Minister David Cameron and London Mayor Boris Johnson asking them to look into the decision.
He urged them not to "rubber-stamp it at this stage".
The Premier League decided to give its blessing to a football club moving into the stadium but had no preference between West Ham and Spurs.
A league spokesman said: "Full consideration was given to a letter written by Barry Hearn to the Premier League prior to the board meeting at which the decision was taken.
"In the letter Mr Hearn accepted either Tottenham Hotspur or West Ham United would inevitably move into the Olympic Stadium while outlining his preference for Tottenham Hotspur.
"It is regrettable Mr Hearn is now claiming that Leyton Orient had no input. There is absolutely no question of the board's decision being reviewed."
Junior communities minister Bob Neill described the decision as a "milestone" and said the OPLC would begin discussing the terms of the lease with West Ham.
Mr Johnson claimed the decision to allow West Ham to take over the Olympic Stadium would prevent the venue from becoming "a dust bowl" staging occasional athletics events.
"I am confident that West Ham will provide a secure future for the stadium which also sees its iconic design for the London Games retained for future generations to admire," he said.
Mr Johnson also promised Tottenham that he would do all he could to help them move to a new stadium.
West Ham's bid for the £537m venue was judged to provide the best legacy for the stadium.
Spurs' plan was widely criticised because it would have involved removing the running track and replacing part of the stadium.
The club intended to pay for an expansion of the athletics facility in Crystal Palace, rather than keeping a legacy for the sport in Stratford.
West Ham, currently in the Premier League relegation zone, will keep athletics in east London and leave the running track untouched.
UKA chairman Ed Warner welcomed the decision and thanked the OPLC for its commitment to an athletics legacy.
He said: "The process undertaken by the OPLC was robust and thorough and this announcement today is testament to that."