'Voice for Chinese businesses' launches in London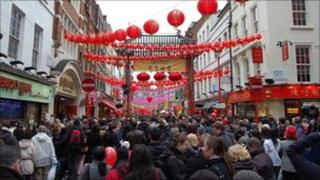 A Chinese business association is being launched in London to capitalise on the growing economic influence of China.
Few would deny that Chinese businesses are ubiquitous in London, so why the need for the Chinese Business Association (CBA)?
The capital's relationship with China spans centuries, with the first business ventures set up in the 1700s by Chinese sailors from the East India Company.
With 400 Chinese-owned companies already operating successfully in London, how will this new organisation benefit Sino-British relations and what is in it for the capital?
The CBA is the brainchild of the London Chamber of Commerce and Industry (LCCI) and is being launched on Tuesday by Mayor of London Boris Johnson.
It promises to provide "a voice for the Chinese business community" and services for members include networking events, seminars on doing business in London, learning about Western etiquette and legal advice.
According to Peter Bishop, deputy chief executive at the LCCI, Chinese businesses are well established in London, but only up to a point.
"Chinese businesses have been coming to the UK for a long time, but they haven't integrated, " he said.
Multicultural society
"However, in the last couple of years there's been a definite shift. Now they actually want to be involved, they want to take it beyond trade.
"What we're doing is setting up a home for Chinese businesses within an established organisation like the LCCI."
He makes a comparison with the Indian community which, he believes, became more intrinsic to the capital following the creation of the Asian Business Association in 1995.
"Now we have Indian MPs and the community is very much participating in the great multicultural society that London is.
"I think that's what will happen with China. I'm sure we'll have Chinese MPs in the future," he said.
Mr Bishop is keen to stress that there are significant differences between the two countries; India did not have to overcome a language barrier to the same extent as the Chinese.
Its legal system is also similar to the UK's and, being an ex-Commonwealth country, Indo-British relations have more solid roots.
With China recently overtaking Japan to become the world's second- largest economy, Mr Bishop believes London needs to tap more into this lucrative resource.
Origin of business
"China is a country with which we do a relatively low level of trade. David Cameron famously said last year that we do more trade with Ireland than with China, Brazil, India and Russia combined," he said.
Suzannah Kwok, vice-president of the London Chinatown Chinese Association, believes we cannot look at China as just one entity and that difficulties in integration are down to the origin of the business.
"You have a great diversity in the Chinese business community - some businesses have a mainland China approach while others are from Hong Kong and, as a result, have a much more westernised approach."
Joanna Liu, who comes from Hanan province in central China, chose to set up her marketing design company Shishi Ishi in London because it was "the best city for design".
For her, not taking into account cultural differences between the two nations would be "like serving fish and chips with stir fried noodles underneath".
She is certain the CBA will help her year-old business to flourish and is especially keen to take advantage of the networking opportunities on offer through being a member.
"I think business in London is about people, and being part of the CBA will help me to meet more business people," she said, adding that: "The LCCI has an unrivalled connection with local businesses."
With the Olympic Games arriving in the capital next year, Ms Liu believes that "there will be lots of Chinese companies interested in being a part of that big event" and the CBA will be indispensable to their integration.
So what is the LCCI's long term view? According to Mr Bishop: "One day Chinese businesses will be so integrated within businesses within the capital that there will no longer be a need for a Chinese business group like the CBA."