Bid to evict Brian Haw from Parliament Square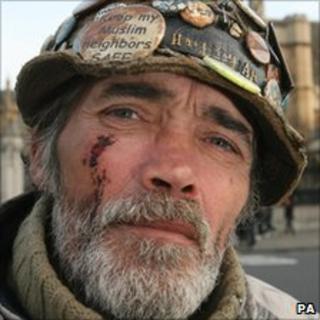 Mayor of London Boris Johnson has returned to the High Court to try to evict peace campaigner Brian Haw from Parliament Square.
In July protesters manning a so-called "Democracy Village" were forced to leave the square after the Court of Appeal backed a possession order.
But Mr Haw, from Worcestershire, who has protested at the site since 2001, was not included in the ruling.
Now Mr Johnson's counsel is arguing that Mr Haw should be evicted as well.
The protester, from Redditch, is currently being treated in Germany for lung cancer.
Fellow protester Barbara Tucker was in court on his behalf.
The mayor's counsel, David Forsdick, conceded that the nature, duration and location of Mr Haw's protest were within the scope of Article 10 and 11 of the Human Rights Act, which covers freedom of expression, association and assembly.
But Mr Forsdick added: "It cannot be right that Article 10 and Article 11 requires individuals to be permitted indefinitely to take control of important public space to the exclusion of the public.
"Any such approach would be an affront to, rather than a protection of, the wider public's rights and freedoms."
The hearing before Mr Justice Wyn Williams is expected to last a day with judgment likely to be reserved to a later date.