Armistice Day poppy-burning demo 'sickened' observer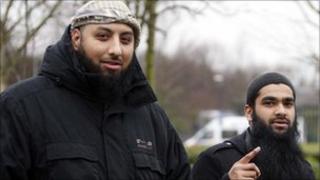 The grandson of a World War II soldier felt "sick inside" as Muslim extremists burned replica poppies on Armistice Day, a court has heard.
Tony Kibble said members of Muslims Against Crusades (MAC) chanted "British soldiers burn in hell", while he attempted to mark a two-minute silence.
MAC members Mohammad Haque, 30, and Emdadur Choudhury, 26, both from east London, deny public order offences.
The alleged offence took place at Kensington Gore in west London.
Mr Haque, of Mace Street, Bethnal Green, and Mr Choudhury of Hunton Street, Spitalfields, are accused of jointly carrying out the burning of three oversized plastic poppies in a way that was likely to cause "harassment, harm or distress" to those who witnessed it.
On the day of the alleged offences, 11 November 2010, members of the English Defence League (EDL) exchanged angry outbursts with representatives of the MAC.
The trial, at Belmarsh Magistrates Court - sitting at Woolwich Crown Court - heard two groups were separated by police lines and metal barriers.
The demonstrations happened near the Royal Albert Hall, the end point of a charity march at which serving members handed over books of condolences ahead of Remembrance Sunday.
'Ball of fire'
Mr Kibble and his friend Paula Allen had arranged to pay their respects to service personnel gathered, and those who had fallen.
Mr Kibble told the court that as the 11th hour approached they found themselves at the site of the demonstrations.
He said members of the MAC carried on shouting throughout the two-minute silence.
"Halfway through, I looked up to see what was going on around and I saw a ball of fire fall to the ground. Literally, my stomach turned over," he added.
"I felt sick inside. It is something that means so much to me and to see what I believed to be a wreath of poppies fall to the ground - it is just despicable."
Video footage of the incident was shown in court.
In it, a leader of the MAC can be heard to say "the two minutes have started" before leading a series of anti-British chants.
About 20 men at the demonstration joined in with shouts of: "Burn, burn British soldiers, British soldiers burn in hell."
The crowd continued: "British soldiers - murderers, British soldiers - rapists, British soldiers - terrorists."
Their actions went "far beyond the boundaries of legitimate protest and freedom of expression," prosecutor Simon Ray said.
In a statement given to police, Ms Allen - whose nephew is serving in the British forces, as did her father, grandfather, great-grandfather - said she felt "insulted, sickened and offended" by what she heard during the attempted two-minute silence.
Supporters of the two defendants and members of the EDL held demonstrations outside the court before Wednesday's hearing began.
The trial continues.