London cable car: City Airport crash risk 'very low'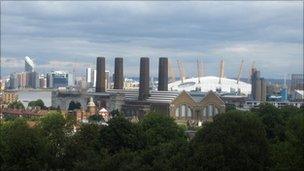 There is "an extremely low risk" of an aircraft crashing into the proposed cable car across the Thames in London, a report from the National Air Traffic Service (Nats) has said.
The probability of a plane hitting the link would be less than one incident every 15 million years, it added.
Nats was commissioned to review safety after campaigners warned the cars were too close to London City Airport.
Friends of the Earth said safety could be at risk if the scheme went ahead.
Campaigner Jenny Bates said: "A cable car would be a great, environmentally-friendly way of crossing the River Thames but it will pass through the expanded area around London City Airport needed to protect people from a plane crash.
"Friends of the Earth would like to support the scheme but it's unclear how it avoids the government ban on building in the crash zone and whether the number of people at risk has been properly assessed."
But Transport for London, which ordered the survey, said: "Even considering expansion of City Airport, the probability of an aircraft accident affecting the London cable car would be less than one incident every 15 million years.
"This was an extremely low risk and well within safety guidelines."
It has sent the report to Newham Council, which has a say in issues regarding the airport.
Greenwich Council and mayor Boris Johnson will also be involved in the process of deciding whether the cable car goes ahead.
It was hoped the project would be open in time for the Olympics in July of next year.
But in December, the London Development Agency warned it may not be ready in time.
The cable car will connect the O2 arena at North Greenwich with the ExCel exhibition centre in Docklands.
Olympic events are due to be held in both of these venues.
Related Internet Links
The BBC is not responsible for the content of external sites.