Iran arms accused Christopher Tappin to be extradited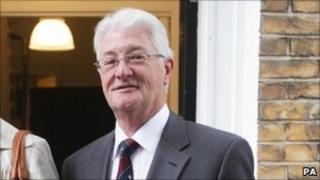 A retired businessman has lost a High Court fight against being extradited to the United States over charges of conspiring to sell parts for Iranian missiles.
Christopher Tappin, 64, of Orpington, south-east London, denies conspiring to export the batteries for Hawk air defence missiles.
He has claimed he was the victim of an FBI "sting".
However, judges at the High Court said his argument was "unsustainable".
Aiding and abetting
They said it would not be "oppressive" to extradite him.
His representatives said the case would now be taken to the Supreme Court, the final court of appeal in the UK for civil cases.
Mr Tappin is wanted in El Paso, Texas, on a charge of conspiring to export defence articles without licence or approval and aiding and abetting the attempted export of defence articles without the required licence.
He is also accused of intentionally and unlawfully attempting to conduct financial transactions from the outside to a place inside the US, with the intent to promote the carrying on of a specified unlawful activity.
If convicted, he could face up to 35 years in prison.
Mr Tappin, the former director of Surrey-based Brooklands International Freight Services, said he believed he was exporting batteries for the car industry in the Netherlands.
He was "thoroughly disappointed" with the High Court judgement, he said.
He added: "I was relying on the British justice system to protect me from false allegations made by a maverick government agency clearly operating outside the law in the US.
"Our extradition laws completely fail to prevent such improper extraditions."
He said he feared the impact it would have on his family and close friends, and would consider the options to "bring an end to this nightmare".
'Horrendous extraditions'
Karen Todner, of Mr Tappin's solicitors Kaim Todner, said: "Yet again this one-sided treaty is set to destroy a British citizen's life.
"We would urge the government to take urgent action to review this treaty and stop these horrendous extraditions."
Mr Tappin had been challenging a decision made in February last year by district judge John Zani at City of Westminster Magistrates' Court that extradition could go ahead.
Edward Fitzgerald QC, appearing for Mr Tappin, told the High Court at a hearing in December that his client was the victim of an abuse of power.
Mr Fitzgerald said FBI agents pretending to belong to a fictitious export company known as Mercury Global Enterprises set out to "dupe, deceive and ensnare" unsuspecting businessmen.
In June last year, the Home Office said it would not refuse Mr Tappin's extradition on human rights grounds.