West End Tube stations to get major upgrades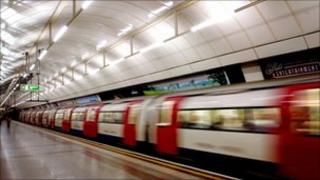 Tube and bus passengers have been warned to expect disruption over the next two months as two of the busiest underground stations are being rebuilt.
Tottenham Court Road and Bond Street stations will be receiving major upgrades to increase their capacity as part of the Tube Upgrade Programme.
From next Monday some bus routes on Oxford Street will need to be diverted.
From April, Northern Line trains will not stop at Tottenham Court Road for eight months.
This will enable major works on platforms to take place.
The Central Line will service the station as normal.
For the Bond Street upgrade, Oxford Street will be closed eastbound between Duke Street and Vere Street for utility works from 14 February for nine months.
Richard Parry, of London Underground, said: "The huge increase in capacity these station upgrades will bring will enhance Oxford Street's status as a world-class shopping area by providing a fantastic gateway to the West End.
"With the upgrade of the Northern, Victoria and Jubilee lines, and with Crossrail services set to begin in 2018, it's vital that we get these works well under way."