Teacher suspended for 'urging tuition fee protest'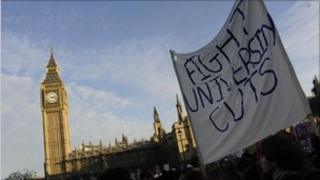 A school in north London has suspended a teacher over claims she encouraged pupils to take part in university tuition fee protests.
Sue Caldwell is understood to have been suspended from Friern Barnet School in Barnet after a parent complained.
Thousands of students took to the streets in December to voice anger over coalition plans to raise tuition fees to a maximum of £9,000 per year.
The demonstration spiralled into large-scale public disorder.
A Barnet Council spokesman said: "We can confirm a teacher has been suspended at Friern Barnet School.
"We would stress that the school has a duty of care and a suspension should be seen as a commitment to fulfilling this duty, rather than a comment in any way on the individual.
"We cannot comment further on any HR issue at this stage."
John Dixon, of the National Union of Teachers, said: "It would not be appropriate to comment on an individual case when under investigation."