Microsoft boosts London apprenticeship drive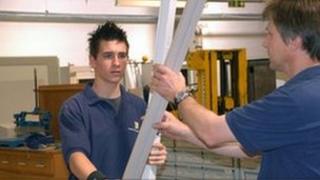 Software giant Microsoft plans to create 1,000 apprenticeships in London over the next three years.
This will go towards the London mayor's apprenticeship drive, which aims to deliver 20,000 opportunities in the city by September.
The programme will support young job seekers and help to keep London's businesses competitive.
It comes as mayor Boris Johnson and Business Secretary Vince Cable launched National Apprenticeship Week in London.
They called on London's big businesses to take on apprentices in order to help boost the economy
Microsoft plans to increase the number of apprentices throughout its supply chain.
It forms part of its Britain Works programme, launched in 2009, which is designed to help 500,000 people back into work by 2012.
Stephen Uden, head of skills & economic affairs at Microsoft, said: "Apprenticeships give people a tremendous advantage, not only in terms of helping them get the job that they want, but also in terms of future earning potential.
"London is the engine room of the UK economy and over the next three years Microsoft intends to deliver 1,000 apprenticeships in the capital through our network of partners."
Meanwhile, Virgin Media has confirmed it will be offering nearly 90 apprenticeships in 2011 and global law firm Norton Rose announced it would also make apprenticeships part of its recruitment policy.
Key sectors
The London Apprenticeships Campaign is targeting key sectors where apprentices are underrepresented or there is a strong potential for growth, including financial and business services, logistics, IT, retail, passenger transport, leisure and hospitality.
The most popular apprenticeship in 2009-10 was business administration.
London has 14% of the UK's population but only provides 5% of the annual total of new apprenticeships, which prompted the mayor to set the target of 20,000 new apprenticeships.
The latest figures show that London is on track to meet this target, with about 9,000 positions created - up almost 30% on the same period last year.