New hours start at Tube ticket offices despite row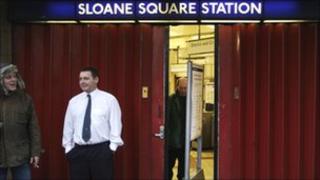 New opening hours at Tube ticket offices started on Sunday despite an unresolved row over claims the move has cost job losses.
Transport for London says opening hours will now "better suit demand."
Howard Collins, of London Underground, said all stations would remain staffed while services were running.
Rail Maritime and Transport Union (RMT) said the move was part of a "hidden drive towards de-staffing."
RMT General Secretary Bob Crow added: "The new rosters coming in from Sunday show London Underground is planning to leave a third of stations unstaffed for part of the day."
TFL said only one in 20 Tube journeys involved a ticket office purchase due to "the success of Oyster cards, along with the growing use of internet sales and automatic top-ups."
Howard Collins, London Underground's chief operating officer, said every station would remain staffed and every station with a ticket office would still have one with opening times to reflect demand.
"Staff who were previously behind under-used ticket office windows will be able to be deployed to places where they can better assist passengers," he added.
Tube unions have already held a series of strikes over job losses caused by the ticket office changes and the threat of further walkouts remains.
Mayor of London Boris Johnson has been in dispute with the RMT and TSSA unions over 800 jobs due to go in ticket offices.