Streatham ice rink murder witnesses 'still afraid'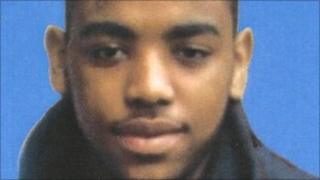 The mother of a teenager shot dead in south London four years ago has said potential witnesses "are still afraid of speaking" about the crime.
Tracey Smartt-Ford held a vigil on Thursday in memory of her 17-year-old son Andre, who was murdered at Streatham ice rink on 3 February 2007.
A £20,000 reward was offered by the Metropolitan Police to find the killer.
More than 350 people were attending a disco at the rink when Andre was shot twice at the bottom of a staircase.
To mark the fourth anniversary of the attack, Mrs Smartt-Ford lit candles with family and friends.
Many of them wore orange scarves, which "signifies peace", she said.
"It's about giving young people the confidence to come forward," she said.
"I believe that it's [about] building trust, and people need the trust of the police.
'Dangerous people'
"That's what we're hoping to build the bridges on, and help young people to break the walls of silence."
Andre, who was also known as James, was approached by a youth who fired two shots at him.
There have been 18 arrests in the case in the past four years, including seven on the night of the shooting, but nobody has ever been charged.
Andre was "happy, bubbly, a lover of life - just a joy to be around", Mrs Smartt-Ford said.
"He just loved life and that's the tragic thing about it."
Police have appealed for anyone who was at the rink that evening, or who has been withholding details, to come forward.
"These witnesses have the power to bring an end to this and to take dangerous people off the street," said Det Insp Henry Lindsey.
"We remain determined to solve this murder and bring some resolution for Andre and his family."