Shooting conviction Southwark councillor urged to quit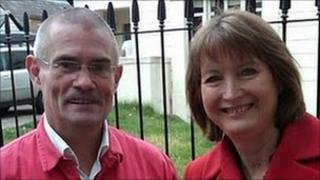 A councillor who was sentenced to six years in prison for shooting and wounding a man in the United States has been urged to quit.
Stephen Govier was elected as a Labour Party councillor in Southwark in May 2010 but has had the whip withdrawn for not disclosing his conviction.
The Labour and Lib Dem group leaders have called on him to resign.
Mr Govier said he wanted to continue serving his constituents.
Southwark Council said it had no legal grounds to remove Mr Govier.
The councillor was pictured on the campaign trail with then government minister Harriet Harman in the run-up to the last election.
Ms Harman is now deputy leader of the Labour Party.
He was suspended from the party in December after it emerged that, while living in California in the late 1990s, he shot and seriously wounded a man and was jailed.
Mr Govier said the man was an intruder in his home.
The Labour Party requires people to declare previous convictions when applying for selection as a candidate.
He is currently sitting as an independent on the Labour-run authority.
Labour group leader Peter John said: "I believe that Stephen Govier has misled the Labour Party and the South Camberwell electorate. He should do the right thing and resign.
"As soon as allegations against him came to light he was suspended from the Labour Party and an urgent investigation is under way."
Councillor Anood Al Samerai, leader of the opposition Lib Dem group, said Mr Govier should resign and put himself up for re-election to see if the public still backed him.
She said: "We are shocked by the revelations.
"The fact he was not honest with the party that elected him or the public that voted for him is very serious."
The Howard League For Penal Reform said it would have been appropriate for him to declare the conviction to the Labour Party.
The league said cases such as this highlighted the need for legislation on such declarations to be made much clearer.
The Labour Party said that, as Mr Govier had now left, it was powerless to strip him of his seat - for which he receives an annual allowance of £10,599.
Under current legislation he can continue in his role as a councillor. The Local Government Act 1972 only disqualifies people from standing if their conviction was in the UK or its dependencies and in the past five years.
Mr Govier admitted he had not told the Labour Party about his conviction.
He said: "In the 1990s I was living in California. I shot and wounded an intruder in my house.
"I was convicted of offences involving the use of a firearm and given a prison sentence."
He continued: "This issue turns on the application form to be answered by those seeking selection for the Labour Party.
"It included the question whether there was anything in my past which was prejudicial to the Labour Party.
"The question was purely subjective and I answered in the negative."
He added: "Over the past eight years I have become heavily involved in voluntary work in my local community, and have pursued a career in crime prevention.
"It is my desire to continue to work conscientiously and in the interest of my constituents to create a fairer future for all in Southwark."
Correction 4 February: This story has been amended to clarify that, while the Howard League for Penal Reform believes Mr Govier should have disclosed his conviction, it is not calling for his resignation.