London weapons bin holds guns, knives and swords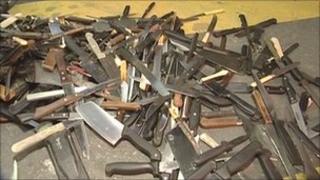 Three guns and more than 400 knives and swords have been placed in a designated bin in central London in the past year.
The sealed metal vault was set up in Palace Street, Westminster, so young people could surrender their weapons.
Its success means 15 more containers are to be located elsewhere in London.
"We all have a part to play in this battle and by working closely together, the police, community and schools can help rid our streets of knives," said Mayor Boris Johnson.
The bin in Westminster was placed near a boys' school in 2007 by the Words 4 Weapons project.
Michael Smith, who founded the scheme, said he wanted to see bins in each of London's 32 boroughs.
"Sadly, violent crime involving knives and guns occurs in almost every community and regardless of race, gender or faith, the effects are devastating," he added.
About 11,000 knives have been found and 5,000 people arrested for knife-related crimes since the Metropolitan Police began specifically targeting such weapons in May 2008.