Pete Doherty meets police over Mark Blanco flat death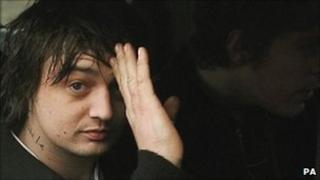 Singer Pete Doherty has been interviewed by police over the death of an actor at a party in December 2006.
Mark Blanco, 30, died after falling from a balcony in Whitechapel, east London.
Scotland Yard initially said he had jumped deliberately but a coroner ordered a second independent investigation in 2007.
Doherty was not formally questioned but voluntarily attended a police station, his solicitor Sean Curran said.
The 31-year-old musician had agreed "to help them with their inquiries", Mr Curran added.
A Metropolitan Police spokesman said: "We have made no arrests.
"Inquiries continue and we are not prepared to discuss who we may or may not have spoken to."
The coroner's ruling led to Mr Blanco's family paying for their own specialist reports on how he suffered fatal head injuries.
These included a study by neurobiology expert Professor Richard Wassersug, who said if the Cambridge graduate from Shoreditch had deliberately jumped, he would not have been hurt in the same way.