London Youth Games starts recruitment drive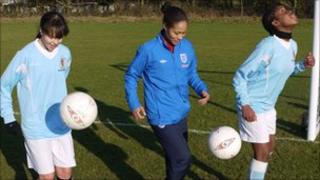 Europe's largest annual youth sports event has launched its 2011 recruitment drive across London's boroughs.
Footballer Rachel Yankey, of Arsenal and England Ladies, is helping to promote the London Youth Games drawing on her experience competing at the event.
Recruitment for the 2011 season runs from February to the end of April.
The London Youth Games enjoyed its most successful year in its 34-year history in 2010, with over 50,000 participants.
Yankey said: "This is one of the most exciting events any young Londoner could wish to experience because it's like a mini World Cup and Olympic Games all rolled into one.
"Young people need a goal and something to focus on so I would urge anyone with even a slight interest in sport to give it a go."
'Change lives'
To mark the launch, Rachel led football coaching sessions at schools in Lewisham, Bromley and Hackney and talked to pupil's about playing for the England team and her hopes for the 2011 Fifa Women's World Cup.
Olympic 100m athlete Jeanette Kwayke visited schools in Waltham Forest, where sporting participation is traditionally low, to help encourage a competitive sporting legacy beyond the London 2012 Olympic Games.
Sport England chairman Richard Lewis said: "The London Youth Games is helping sport to change the lives of tens of thousands of young Londoners, and like so much of what's good in community sport, the games' success is down to strong teamwork between local councils, sports governing bodies and many other partners."
The annual event features competitors aged between seven and 18 from all 33 London boroughs competing across 30 sports, including four disability sports, over 25 competition days.