London City banker jailed for insider trading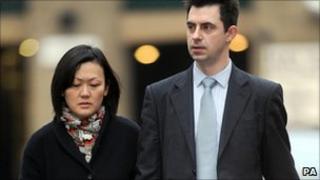 A City banker who amassed almost £600,000 through insider trading with his wife and a friend has been jailed for three years and four months.
Christian Littlewood, 37, listened in to conversations in pubs and spied on colleagues' computer screens and documents, Southwark Crown Court heard.
His wife then used her Chinese name to invest in firms about to be bought.
Littlewood, his wife Angie and Helmy Omar Sa'aid, who helped finance the deals, admitted insider trading.
All three pleaded guilty to eight charges of insider trading between March 2000 and August 2008.
The court heard how Littlewood used his position as a corporate finance adviser to carry out the "deliberate and dishonest" acts.
Prosecutors described how he would tip off his wife, who is also known as Siew Yoon Lew, when he learned that a company's share price was set to increase.
Self-employed juice bar owner Sa'aid, 34, was also involved in the operation which saw the trio invest £2,150,000 and make a profit of £590,000.
Sentencing Littlewood Judge Anthony Leonard QC said: "This is the biggest prosecution for insider dealing that has ever been brought before this court."
Referring to past cases, he added: "None of those cases have matched this one in terms of scale or profits made."
He said Littlewood was motivated by avarice and the "level of planning and sophistication was high".
He described Littlewood as skilled in his role, but told him: "You, to amass yet more wealth, could not resist making use of the sensitive information you had."
Littlewood's 39-year-old wife was given a 12-month suspended sentence and Sa'aid was given a two-year jail term.