London Tube Central Line services hit by cable theft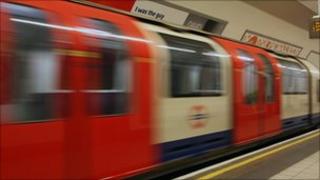 Tube services were disrupted during the morning rush hour after thieves stole cabling in east London.
A section of the Central Line was suspended from first thing until 0740 GMT due to the theft at Fairlop.
The Rail Maritime and Transport union said the tracks were left vulnerable because of a cut in inspections.
But Transport for London (TfL) denied there had been any change to the frequency of patrols and said it was working with police on the matter.
A combination of signalling problems and the cable theft led to the Central Line being suspended between Woodford and Leytonstone and Grange Hill and Leytonstone.
'Electrocution risk'
Bob Crow, general secretary of the Rail Maritime and Transport (RMT) union, said: "Millions of pounds-worth of infrastructure has been left vulnerable and we warned only this week that the Central Line was high risk."
But a TfL spokesman said: "There has been no change to the frequency of track inspections in this area, so the RMT claims are simply untrue.
"Regular inspections are carried out several times a week, supported by our extensive CCTV network, and London Underground works closely with the British Transport Police (BTP) to tackle this issue."
BTP Det Ch Insp Jason Bunyard said those stealing cable were risking both a court appearance and their lives.
"Because offenders can only access the cable by going right up to the tracks, there is a real risk they could be struck by a passing train or electrocuted, as some of the cables carry large amounts of electrical current."
The BTP said its officers had recovered a large amount of stolen cable and made several arrests in relation to cable thefts on the Tube network in recent weeks.
The action included arresting eight people during a day visiting scrap metal dealers across London on Tuesday.