Newington Green 'gas explosion' investigated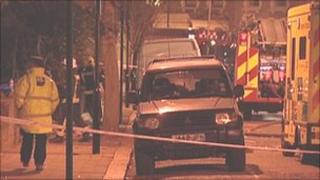 Investigations have begun into a suspected gas explosion that destroyed a flat in north-east London.
Four other flats in the block and six cars in Aden Grove in Newington Green were damaged in Monday night's blast.
Firefighters moved 44 people to safety and all but one were later allowed back into the five-storey block. No-one was injured.
An investigation into the cause of the explosion will be carried out by London Fire Brigade and Hackney Council.
Residents living in the affected flats were taken to Stoke Newington Town Hall after the explosion at 1820 GMT.
The fire brigade said one witness reported a smell of gas before the blast.
BBC journalist Tabby Cole, who lives near the scene, said: "It was so powerful it blew the back door open and the whole house shook."
And Iona De Nemethy Sanigar, who lives in Aden Grove, said it was "the loudest bang you could ever imagine".