A13 average speed cameras switched on in Canning Town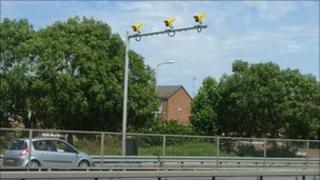 Dozens of average speed cameras have gone on-line along a road which has seen hundreds of accidents, Transport for London (TfL) has said.
Between 2007 and 2009 there were more than 400 collisions on the A13 between Canning Town and the Goresbrook Interchange.
TfL hopes the 84 new speed cameras will reduce collisions by 30%.
But the Driver's Alliance said there was no evidence cameras improved safety.
Two people were killed and another 37 seriously injured on the road over the two year period.
The cameras, based at 37 locations, will monitor the speed of vehicles as they drive along the road.
If the average speed is above the speed limit, the owner of the car will be issued with a Notice of Intended Prosecution by the Metropolitan Police.
The speed limit is being raised from 40mph to 50mph.
David Brown, managing director of surface transport at TfL, said: "Once active, the upgraded safety camera system will help significantly reduce the number of collisions that occur along this stretch of road, resulting in fewer serious casualties and reduced collision-related traffic congestion in the local area."
Pc Simon Wickenden said: "We fully support both the increase in the speed limit and the average speed camera system on the A13.
"Experience elsewhere has shown that average speed cameras increase road safety and at the same time better regulate traffic flow."
But Pete Roberts, of the Driver's Alliance, said: "Although the speed camera partnerships claim they reduce accidents there is no evidence in national terms that supports that view.
"You could also argue that what reductions in casualty rates there have been are due to better engineering of cars, better brakes, airbags and so on.
"I don't know why they continue to flog that argument when there is no evidence to support speed camera deployment."