Tube ticket office changes to go ahead despite row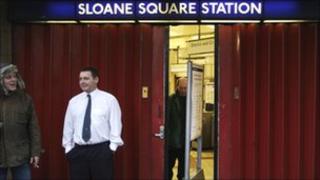 New Tube ticket office opening hours are to come into effect from next Sunday despite an unresolved row over job cuts.
Staff will be deployed to areas of stations where passengers "most value their help and reassurance".
London Underground (LU) has insisted the changes are needed to take into account the success of the Oyster card.
Tube unions have claimed "unstaffed ticket offices" will turn the underground into a "criminal paradise".
LU said the introduction of the Oyster pre-paid card system, along with the growing use of internet sales and automatic top-ups, has led to just one-in-20 tube journeys involving a ticket office purchase.
It said some ticket offices sold fewer than 10 tickets an hour.
Howard Collins, of London Underground, said all stations would remain staffed while services were running.
"Every station will remain staffed and every station with a ticket office will still have one with opening times that reflect demand," he said.
Rail Maritime and Transport Union general secretary Bob Crow said: "This announcement confirms the lethal plans leaked by RMT to leave a third of our stations unstaffed, turning the Tube into a criminals' paradise.
'Sweeping cutbacks'
"Even before these dangerous new rosters are bulldozed into place, we have stations unstaffed late at night with at least one brutal assault and that's a taste of what's to come."
He said staffing and ticket office cuts were contradictory to Boris Johnson's comments that no station would be left unstaffed at any time and would leave those responsible with "blood on their hands".
Gerry Doherty, general secretary of the Transport Salaried Staffs Association, said Mr Johnson was jumping the gun by bringing in the changes while the safety review was still continuing at the conciliation service Acas.
"He is now pre-judging the outcome of those talks which have already agreed changes to the sweeping cutbacks he announced last year," he said.
He said talks would continue this week while members were consulted about the next move.
Tube unions have already held a series of strikes over job losses caused by the ticket office changes and the threat of further walkouts remains.