Rush hour warning over Victoria Tube station revamp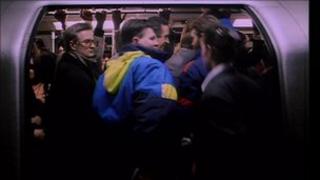 Commuters have been told to stay away from a London Tube station during the evening rush hour for a year while three escalators are upgraded.
Work on the first escalator at Victoria station began on Monday as part of a wider £700m refurbishment.
Transport for London (TFL) said the work should be completed before the 2012 Olympics, which will increase demand for the congested station.
TfL said passengers should use other stations while the work is undertaken.
Offices closed
It could take up to 15 minutes to reach the platforms and passengers may have to wait outside, TFL warned.
Passengers who do brave the commute have been advised to buy tickets before entering the station as ticket offices will be closed between 1600 and 2000.
Howard Collins, London Underground's Chief Operating Officer, said the work was crucial part of modernising and enlarging the station.
"Victoria Tube Station is one of the busiest stations on London Underground, with 80 million passengers a year, expected to reach nearly 100 million a year by 2016," he added.
"To make their journeys quicker and easier customers should use another route and avoid entering Victoria Tube station in the evening peak times."