Residents in Barnet protest over council budget cuts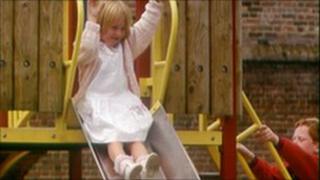 Almost 2,000 residents have taken part in a protest against Barnet Council's budget cuts.
Barnet Alliance for Public Services says the council's planned £54.4m cuts would result in a deterioration in the borough.
Barnet Council confirmed it needed to make the savings over the next three years.
Demonstrators gathered at Finchley tube station, in north London, and marched to the Arts Depot for an indoor rally.
Less money
Barnet Alliance said the cuts would have "a devastating impact on the lives of many Barnet residents".
"The march was the first expression in the borough of the increasingly united opposition to this administration's policies," it said.
Resident Susan Dunning, who attended the march said: "We had people here angry about the cuts to so many different services across the borough including mental health care, youth services and park maintenance.
"So many children's centres which have just been opened are now due to be closed.
"People on crutches, in wheelchairs, with prams turned up to join the march."
Leader of the council Lynne Hillan said it remained committed to protecting the most vulnerable and was putting an extra £2.5m into child protection.
"Like every council in the country we simply have less money and a rising demand for our services.
"This means making some difficult choices. Unfortunately some good things may go so we can protect those most in need of our help."