Six people arrested after 'largely peaceful' protests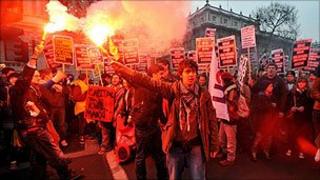 Six people were arrested in London following "peaceful" protests against raising university tuition fees.
Police reported said the majority of protesters had "kept to what had been discussed and agreed".
A spokesman said splinter groups roamed around the West End later, forcing police to stay after the march.
Three people were arrested for criminal damage, one for assaulting a police officer, one for violent disorder and the sixth was wanted on a warrant.
No disorder
The spokesman added: "The protests in London were largely peaceful with only a small number of arrests and no violence or disorder.
"In line with talks the Met Police had held with organisers prior to the march in the capital today, the majority of protesters kept to what had been discussed and agreed."
Sixth-formers joined university students on the march, which started outside the University of London Union.
Prior to the rally setting off, police officers handed out leaflets giving advice on what to do if violence broke out.
The Metropolitan Police said of the few small groups which broke away during the protests; "Several of these groups were still roaming around the West End late afternoon with no apparent purpose or destination, which was necessitating a continued police presence."
Students are protesting against coalition proposals which would see universities charge them up to £6,000 a year, or £9,000 a year in "exceptional circumstances".
Many also marched against the planned scrapping of education maintenance allowance, which provides poorer sixth-form students with financial assistance.