'Fatwa' on Theresa May in Tooting is investigated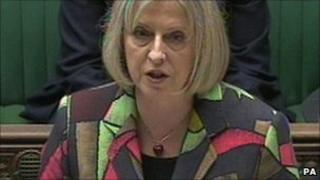 Wanted-style posters which declared a "fatwa" on the home secretary are being investigated by police in south London.
Several posters have been displayed around Tooting, criticising Theresa May "for the abduction, kidnapping and false imprisonment" of radical clerics.
These include Abu Hamza, the preacher imprisoned in 2006 for inciting murder and racial hatred.
The Metropolitan Police said it was "working to find out who put them up" and hoped the posters would be removed.
It was talking to the local authority about this, a spokesman added.
A fatwa is an opinion handed down by an Islamic scholar about an aspect of Islamic law and is not necessarily binding.
The Home Office said it would not comment as it was a matter for the police to investigate.