New student fees protest CCTV images released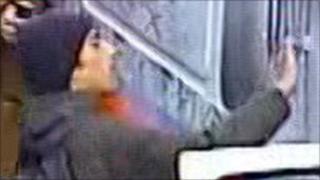 Police investigating acts of violence during the student fees protests in central London have released new images of suspects.
Metropolitan Police (Met) officers are asking members of the public to help identify those who took part in the violent disorder during the protests.
The 12 images released were captured on CCTV in Parliament Square, Trafalgar Square and Millbank in November 2010.
The protests were in response to the planned rise in tuition fees.
The CCTV images were taken during demonstrations on 10, 24 and 30 November.
The Met's Operation Malone team is investigating the violence in the capital on those days.
One image captured on 24 November appears to show a male drawing graffiti on a police van.
Two of the pictures taken at Millbank are of men whose images have previously been released by the force, but the latest pictures issued are clearer.
Officers have arrested more than 200 people in connection with the protests.