Ambulance crew suspended over Sarah Mulenga death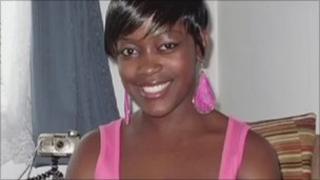 Two London Ambulance Service (LAS) staff have been suspended following the death of a 21-year-old woman they were sent to treat in east London.
Sarah Mulenga, who suffered from sickle cell anaemia, fell ill at her home in Barking on 9 January.
Her landlady said an ambulance crew refused to take her to hospital and other paramedics had to be called.
The LAS said it was "clearly a very complicated case" and it was examining this "particularly serious complaint".
"We've started to interview the crew who are involved," said Richard Webber, the director of operations at LAS.
"We're due to meet the family on Tuesday to fully understand the case, and then we'll be able to feed back to them further."
'Not breathing'
Miss Mulenga's landlady, Chinwe Moneke, claimed a paramedic told the ill woman to get out of bed by a paramedic and "screamed" at her when she failed to do so.
When Miss Mulenga then soiled herself, the crew refused to take her to hospital, Ms Moneke added.
Another ambulance had to be called, and it arrived 45 minutes later, but Miss Mulenga's condition deteriorated and she died in hospital.
Ms Moneke said: "By the time the second paramedic came, Sarah wasn't talking, Sarah wasn't breathing."
Mr Webber said: "This is a particularly serious complaint so that's why in this case we've taken the decision to suspend the crew."