Sophie Ellis-Bextor backs Chelsea and Westminster ward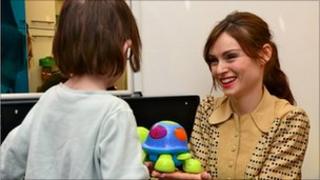 A fundraising appeal has been launched for a new treatment centre for children in west London.
The NHS has pledged £40m towards the paediatric unit at the Chelsea and Westminster Hospital but donations are being sought to cover a further £5m.
The facility will house four operating theatres, an extended intensive care unit and accommodation for families.
Pop singer Sophie Ellis-Bextor has backed the campaign as her two children were born prematurely at the hospital.
The hospital said the unit would offer patients "minimally invasive" keyhole surgery using a robot, which aimed to reduce levels of pain and speed up their recoveries.
The centre would also ensure there was improved treatment for day cases and those children with regular appointments for chronic conditions, it added.
Ellis-Bextor, whose hits include Groovejet and Murder on the Dancefloor, said both her sons had spent their first few weeks in an incubator at the hospital.
"I have experienced first-hand the expertise and support offered at Chelsea and Westminster," she said.
"My boys are now both thriving, which is a testament to the expert care and attention they received as babies."
The hospital said it treated more than 85,000 children a year and the total was rising annually.