Heathrow night flights ban 'could save £860m a year'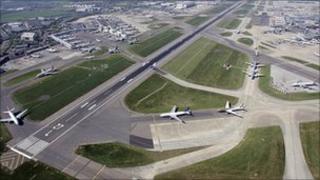 A report claims a ban on night flights at Heathrow before 0600 GMT could save the economy up to £860m a year.
Commissioned by Hacan Clearskies which campaigns for a ban on night flights, the study suggests savings would be in costs linked to sleep deprivation.
BAA, which operates Heathrow, said it was not seeking an increase in night flights and would participate in future consultations.
The report is to be launched in the House of Commons on Thursday.
John Stewart, Chair of Hacan, said: "We commissioned this report to test out the claims that a night flight ban would damage the economy.
"Its dramatic findings destroy the last remaining argument for night flights."
'Highly unlikely'
CAE Delft, who produced the report, argues that the national economy would only be harmed if passengers who currently arrive on the flights before 0600 GMT could not transfer to flights arriving at other times.
If that were to take place, the national economy could lose up to £35 million a year but the chances of that happening are "highly unlikely", the report states.
It also claims the savings made through banning flights would outweigh any losses to the airline industry.
BAA Heathrow said: "At the last night flights' consultation in 2006 we did not seek any increase in flights during the night period and our position has not changed since then.
"We look forward to participating fully in the next Government consultation."
The launch of the report marks the start of a campaign by Hacan to get a ban on night flights between 2300 and 0600 GMT when the new night flight regime is introduced in 2012.