Petition against Metropolitan Police 'kettling' tactic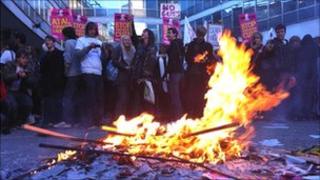 More than 1,900 people have signed a petition calling for the banning of the "kettling" tactics that have been used by police to contain protesters.
The call, comes after the Metropolitan Police "kettled" protesters in London's Parliament Square during a protest against student fees in December.
The petition was organised by the Young Greens, part of the Green Party.
It was to be presented to the Metropolitan Police Authority (MPA) on Thursday ahead of its monthly meeting.
During the MPA meeting, acting Met commissioner Tim Godwin was to face questions from members on topics including kettling, phone hacking and undercover officers.
Jenny Jones, Green Party member the MPA, said the Met used kettling to "imprison peaceful campaigners and have shown they can't be trusted with such a powerful tactic".
She added: "The Met's reputation sinks even further every time they abuse their powers and it's time to stop this particular mistreatment."
'Fundamental right'
Zain Sardar, from the Young Greens, said: "People have been kettled for up to nine hours without food and without medical assistance for those who require it.
"Kettling is an infringement of the fundamental right to peaceful protest."
A Met spokesperson said containment and dispersal was a tactic available to them but that it is only used as a last resort to prevent an actual or imminent breach of the peace.
"We consider the health and wellbeing of those within the containment and will attend to the needs of any vulnerable people, looking to release them at the earliest opportunity," he said.
The MPA has yet to comment on the petition.