Peckham estate stop 'snitching' leafleter traced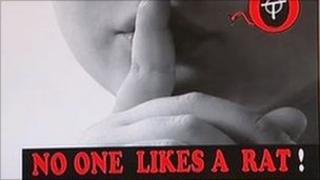 The man behind a leaflet campaign urging people not to talk to police on a London estate where a boy was shot dead has been traced by detectives.
Flyers pointing to a website called Stop Snitching, warning: "Be smart. Don't snitch" were delivered to homes on the Pelican Estate in Peckham.
Police feared it would hamper inquiries into the death of Sylvester Akapalara, 17, who was shot there last month.
The Metropolitan Police said the matter had been resolved.
Following the shooting flyers were put through letterboxes of around 200 homes on the estate carrying the slogan: "No one likes a rat! Remember the police are not your friend."
They were linked to the website Stop Snitching, which tells people not to trust Operation Trident, which investigates gun crime in London's black community.
The website has been changed and now shows a bright yellow smiley face with the mouth replaced by a closed zip.
Det Supt Gary Richardson said police had quickly identified the person responsible, who had been spoken to.
He said the culprit was angry over his treatment as a witness in an unconnected murder case and had agreed not to continue his campaign.
"When it happened we thought we knew who it probably was and he confirmed it," he said. "The matter has been resolved."
Two 18-year-old men and a 17-year-old boy have been charged with the murder of Sylvester, who was shot in the neck and chest on 29 December.