Gang targeted London communities in £10m Ponzi fraud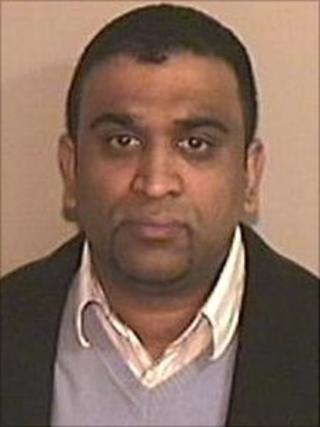 A gang conned innocent investors out of £10m in a Ponzi fraud, it has emerged.
Southwark Crown Court was told the six men targeted Sri Lankan communities in London and promised plentiful profits for joining the scheme.
A Metropolitan Police inquiry began in 2005 after victims reported being duped out of large sums of money.
The six were earlier convicted of various charges including deception and money laundering. Reporting restrictions were lifted on Wednesday.
Ponzi schemes offer investors high returns over a short period of time and those returns are paid for with other, later investors' own deposits into the fund.
The court heard how the men, described by police as "sharks", were involved in a "premeditated deception" which resulted in people losing their homes and life savings.
The ringleader of the gang, Vibhawa Fonseka, a Sri Lankan from a well-known family, targeted members of his own community.
Fonseka, 41, of Spring Grove Crescent, Hounslow, west London, is serving an eight-year sentence after being convicted of money laundering, 30 counts of deception and unauthorised deposit taking.
Det Ch Insp Robin Cross, of the Metropolitan Police, said : "This scam has been devastating for victims, many have been reduced to near destitution, their homes have been lost and some will never be able to retire.
"Fonseka preyed on members of his own community while Napoli and the other men did everything in their power to hide their criminal activity."
During the Met's investigation officers discovered Fonseka had hired expensive cars to persuade potential investors of his wealth, telling them they could also live a life of luxury once their return was paid to them.
Police believe the gang made about £10m over a five-year period by duping about 100 victims.
One victim, a 56-year-old father from west London, ploughed nearly £250,000 into the investment scam.
He said he was taken in by the smooth-talking, flashy head of the operation but the promised returns never materialised.
Instead the man said he had to work shifts of up to 18 hours a day to make up the lost money.
'Too good to be true'
Former solicitor John James, 56, of Short Hill, Nottingham, was jailed for seven years after being convicted of deception, money laundering and unauthorised deposit taking.
Mushtaq Ahmed, 56, an accountant from Shay Fold, Bradford, was fined £5,000 after pleading guilty to unauthorised deposit taking, and was ordered to pay £5,000 costs.
He was found not guilty by direction of a charge of money laundering.
Samantha Koralage, 38, of Elvin Court, Kingsbury, London, and Upul Dezoysa, 60, of Long Lane, Ickenham, west London, have pleaded guilty to unauthorised deposit taking and will be sentenced on 28 February.
American businessman John Napoli, 51, of Sevenoaks, Kent, was convicted of unauthorised deposit taking and is due to be sentenced on 17 February.
Det Ch Insp Cross said: "People like these sharks are more than willing to assist you with losing your money.
"This was a clear, premeditated deception of people who had invested an awful lot of money."
He urged others not to be caught out by similar schemes that appear to be too good to be to be true.
In a statement issued after the hearing a spokesman for the law firm which represents Napoli said: "John Napoli was not convicted of any deception, any involvement in a Ponzi scheme, any offence of dishonesty, any offence of being a 'shark'."
Correction 27 January 2011. This story was amended after an earlier version, based on material from our trusted source, incorrectly stated that Mushtaq Ahmed had admitted a charge of money laundering. He was cleared of this charge.