Hunt for firms to run Olympic venues post-2012 begins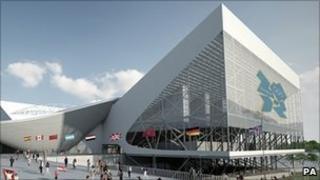 Olympic organisers have begun a search for companies interested in taking control of two of London 2012's sports venues after the Games.
Bidders for the Aquatics Centre and the multi-use arena have until 23 March to lodge a formal expression of interest.
The contract will last 10 years, and the appointments will be made by January 2012.
The Olympic Park Legacy Company (OPLC) described both venues as "core" assets of the Queen Elizabeth Olympic Park.
Chief executive Andrew Altman said: "They will be real community assets and we are looking for the right operators who can bring people together and improve health, education and lifelong participation in sport."
The contracts to maintain the Queen Elizabeth Olympic Park were also put up for grabs.
This is to cover work including park maintenance, horticultural, waste management and security.
The Zaha Hadid-designed Aquatics Centre will have two 50m pools and a diving pool and permanent seating for 2,500 people which can be extended to 3,500, according to the OPLC.
Up to 800,000 people a year are expected to visit and it is expected to reopen in January 2014.
The arena, set to be the third largest in London, will have 7,500 seats.
It can be used for sports, entertainment, cultural, community and business events, and there is also the potential for a health and fitness centre.
It is expected to reopen in 2013.
The OPLC stressed that venue operators will be expected to promote sports development with the national governing bodies of sport, educational establishments and local boroughs.
They will also need to help support sports clubs and academies and provide access for the disabled.