Pair jailed for Trafalgar Square homophobic killing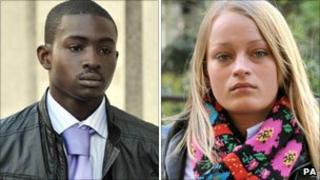 Two people who fatally attacked a man in London's Trafalgar Square after subjecting him to homophobic taunts have been jailed for manslaughter.
Ian Baynham, 62, of Beckenham, south-east London, was assaulted outside South Africa House in September 2009.
He was punched by Joel Alexander, 20, and then repeatedly stamped on by Ruby Thomas, 19, as he lay unconscious.
The Old Bailey jailed Thomas and Alexander for seven and six years respectively.
Screamed 'faggots'
Former public schoolgirl Thomas, of Anerley, south-east London, hurled obscene abuse at Mr Baynham, a civil servant, during the drink-fuelled assault.
The court heard she swore and screamed "faggots", and smiled as she "put the boot into" the victim after he was knocked to the ground by Alexander.
Mr Baynham died 18 days after the assault in central London.
Police found his blood smeared on Thomas's handbag and the ballet pumps she was wearing as she kicked him.
Thomas's ex-boyfriend Declan Seavers told the court that the teenager was "not the type of girl" to have done it.
But Judge Richard Hawkins increased Thomas's sentence from six years to seven years because of the homophobic nature of the attack.
The judge blamed Thomas for sparking the violence that led to Mr Baynham's death.
"This was a case of mindless drink-fuelled violence committed in public," he said.
'Lairy, mouthy'
"You have a previous conviction for drunken loutish behaviour and you have demonstrated hostility towards Ian Baynham based upon his sexual orientation or presumed sexual orientation."
Thomas was said to have been "off her face", acting in a "lairy, mouthy" way, and flirting with random men, the jury heard.
Thomas screamed "faggots" at Mr Baynham and his friend Philip Brown, the court heard.
When Mr Baynham confronted her, there was a scuffle during which she hit him with her handbag and he grabbed it.
Alexander, a student from Thornton Heath, south-east London, then ran up and knocked him to the ground, causing a severe brain injury as his head struck the pavement.
Thomas, a former pupil at £12,000-a-year Sydenham High School for Girls, had a record of violence.
She was 15 when she assaulted a bus driver in central London in December 2007, near to where the attack on Mr Baynham took place.
Ben Summerskill, chief of gay rights charity Stonewall, said: "We welcome the extension to the sentence for Ruby Thomas recognising that this terrible killing was homophobic.
"If Britain's schools continue to fail to tackle homophobic bullying then there's a risk we'll continue to see this sort of incident on our streets."
Det Insp Paul Barran said: "There is no place whatsoever in our society for any type of aggressive, abusive confrontational behaviour, or homophobic crime."
Rachael Burke, 18, of Upper Norwood, south-east London, was found guilty of affray at an earlier trial but cleared of manslaughter.
Thomas and Alexander were convicted of manslaughter at the Old Bailey in December.