London councils increase parking charges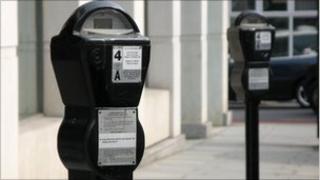 Nearly a third of the capital's councils expect to increase their revenue through higher parking charges in the next year, BBC London has found.
Nine of London's 32 councils plan to raise more revenue by higher charges.
Brixton Café owner Rosie Lovell said increased parking charges would have a detrimental affect on her business.
But London Councils spokesman Nick Lester said: "Almost every council subsidises its permits to help residents."
Ms Lovell said: "Expenses are coming from every angle and parking is just adding to that."
But Mr Lester defended the increased charges, saying: "In these days of cash shortages, every council is going to look at every bit of subsidy it does to see what is justified."
South London's Labour controlled Lambeth council expected to make the most revenue through higher charges - an extra £2.5m a year.
Meanwhile, Tory-controlled Barnet council, in north London, expects to raise an extra £1.9m and Labour-run Greenwich council, in south London, make £1.1m extra revenue through parking charges in the next year.