Confidence among London businesses 'has increased'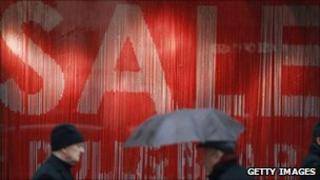 Confidence in the economy has increased among many of London's companies in the past three months, figures from the London Chamber of Commerce suggest.
The number of firms expecting their profits to rise in the near future has gone up from 44% to 51%, it said.
Hopes of greater turnover and output were also higher, it added.
But the Federation of Small Businesses said this was "not what we're hearing" from its members, who were "pretty pessimistic" about economic prospects.
And the latest GDP figures have unexpectedly shown the UK's economy contracted in the last three months of 2010.
The UK economy declined by 0.5% between October and December, the Office for National Statistics said, ending a year of growth.
'Dramatic drop'
The chamber said there had been a 12-point jump in the number of firms reporting an increase in domestic sales, from 22% in the third quarter of last year to 34% in the final quarter.
And 53% of the 149 businesses surveyed believed their own prospects would improve in the coming months.
"In our last set of figures there'd been quite a dramatic drop in confidence among companies," said chief executive Colin Stanbridge.
"They were obviously fearful of what was going to happen in the Comprehensive Spending Review.
"But in the last quarter of the year, after the Comprehensive Spending Review, we find that confidence has quite a dramatic rebound."
A "worrying factor", however, was that many employers were still only recruiting part-time staff rather than advertising full-time positions, he added.
But Andrew Cave from the Federation of Small Businesses said his members were "really suffering because of the overheads that they're facing".
"Cashflow is king," he said.
"They're suffering because of the fuel price increases, but also because in London now you're seeing staggering increases in things like parking permits."