GLA: Shortfall 'may hit TfL road safety measures'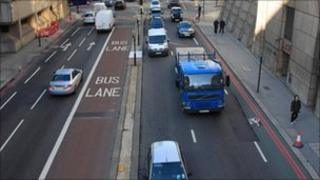 Road safety in London will get increasingly hard to maintain owing to budget constraints, the London Assembly has warned.
Its report said year-on-year grant cuts meant savings would have to be found each year until 2015.
John Biggs AM, chairman of the budget committee, said he wanted to see evidence frontline services would be protected.
Mayor of London Boris Johnson said he would deliver "more bang for the buck".
Mr Biggs was responding to the mayor's draft budget for 2011/12.
The report warned Transport for London (TfL) faced a reduction in its grant of £2.17bn over the next four years.
It said next year's grant alone would be £193m less than under the previous settlement with government.
Authors claimed the situation would become particularly acute after the 2012 Olympics.
TfL has already committed to making savings of about £5bn up to 2018.
But authors said the additional funding shortfall they highlighted meant TfL would need to find a total of £7.2bn in savings - equivalent to 8.2% of its budget.
Mr Biggs said: "Even with the measures outlined in the Mayor's draft budget to minimise the impacts of grant reductions, substantial savings will be required in all of the GLA organisations next year and beyond.
"We are already hearing that TfL will not be able to spend as much on lower priority areas, such as road safety and smarter travel.
"We want to see more evidence that the decisions the mayor makes now are part of a long-term plan to protect services in London."
A spokesman for the mayor said: "The mayor has fought hard to secure investment for the capital and is committed to delivering more bang for the buck.
"He has succeeded in securing Crossrail and continued investment in the Tube upgrades, cycling improvements, the expansion of London Overground and the DLR.
"We have always made clear that tough decisions need to be made but are working hard to fight London's corner and secure the best deal for Londoners."